Tickets
Silverton Christmas Market Tickets
Tickets On Sale Now!
Hurry, tickets are already starting to sell out on peak nights!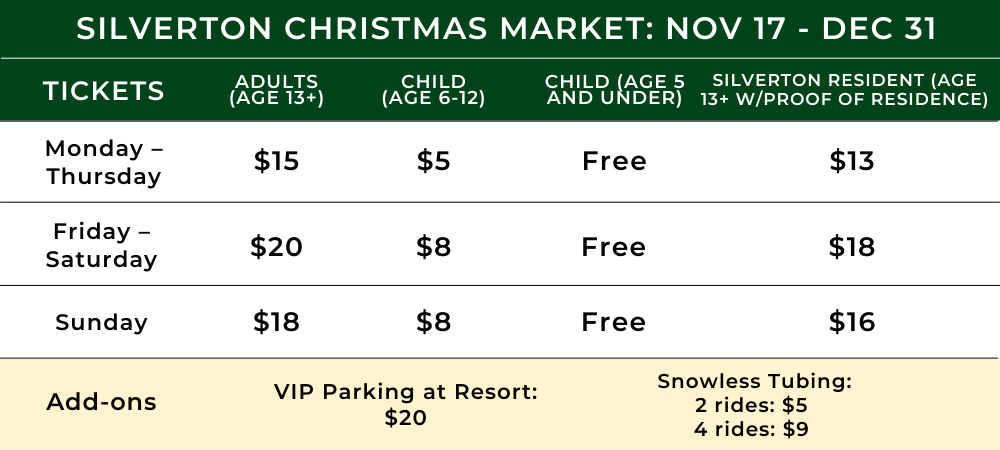 Silverton locals: enjoy $2 off adult admission tickets using promo code LOCALS at checkout! (Age 13+ w/ proof of residence)
---
Tickets are non-refundable. If you need to reschedule your tickets, click the link to view your tickets at the top of your confirmation email. Then click "Reschedule Your Tickets" and select which date you'd like to reschedule your tickets for in the dropdown menu for each ticket. Tickets may be rescheduled for an equal or lesser value without incurring additional fees. Or you may upgrade your ticket to a more expensive day for an additional charge. Click "Save and Reprint".
*The Silverton Christmas Market is a cashless event. Please bring a debit or credit card for food, drink, snowless tubing and vendor purchases.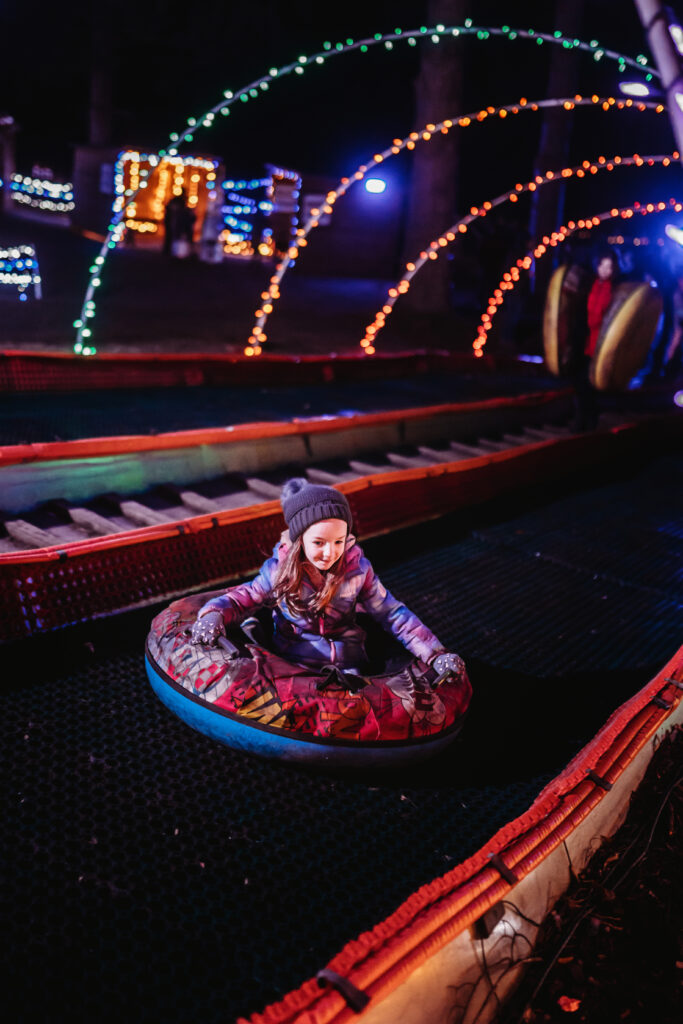 Take a thrilling ride down our snowless tubing track! The track is steeper than ever before, ensuring an exciting ride.
Rider Height Restrictions: Snowless tubing riders must be at least 4 years old and 36 inches tall. All must sign a Snowless Tubing Waiver.
Tubing Tickets: Pricing varies, and guests may purchase passes for 2x or 4x down the hill in advance. Snowless tubing tickets can be purchased as an add-on to the admission ticket. Access to the outdoor tubing hill is complimentary for spectators.
Snowless tubing tickets are also available on-site, but we recommend purchasing them in advance to ensure you get to tube, and also to save time and money.
Nonprofits: Join us on Tuesdays at the snowless tubing hill, where a portion of the proceeds will be donated to the Silver Falls School District through our Tube for School Tuesdays program!