Parking
VIP Parking at the Oregon Garden Resort
VIP Parking is available for $20 and must be purchased online in advance, there is no on-site parking available for purchase the day-of. Park just steps away from the event entrance! This is the closest and most convenient option for those with mobility challenges or small children. VIP Parking is a popular parking option and traditionally sells out for each event date.
Shuttles & Off-Site Parking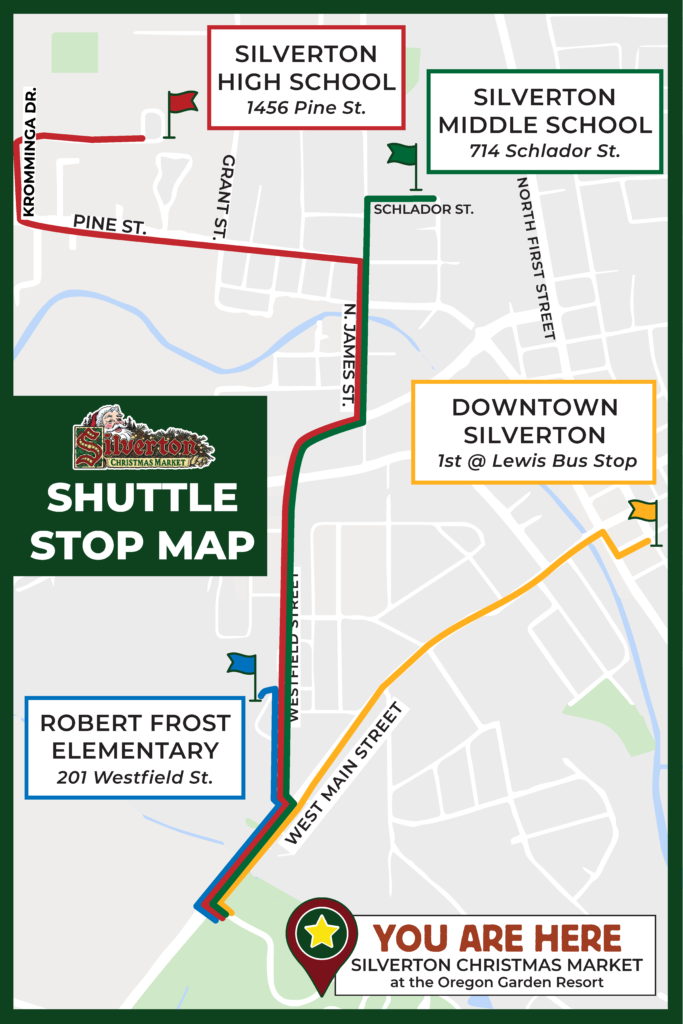 Our off-site parking is complimentary. Shuttles will make continuous loops between the parking lots and the event, dropping you off in front of the Oregon Garden Resort, just steps from the event entrance.
There are no pets allowed on the shuttles and there will be an ADA-accessible shuttle. Be prepared as there are no public restrooms available at the shuttle stop parking lots. If you have any parking questions, text 503-749-7940.
Shuttle Locations
Robert Frost Elementary, 201 Westfield St.
Silverton High School, 1456 Pine St. (please take Kromminga Dr. off Pine St. and proceed to the parking lot)
Silverton Middle School, 714 Schlador St.
Downtown Silverton, 1st @ Lewis Bus Stop
Shuttle Times
Shuttles run on continuous loops between the parking lots and the event. The first shuttle picks up at 4:45pm and the last shuttle leaves the Resort at 9pm.
There are a limited number of ADA spaces available for the Silverton Christmas Market. We do our best to accommodate everyone; please plan to arrive early and communicate with parking attendants if you need an ADA space. There will be an ADA-accessible shuttle that will be making continuous loops at the shuttle stops.
We encourage guests to pre-purchase VIP parking (based on availability) to ensure ease of access to the event.
We want to help make your experience getting to and from the event as smooth as possible. If you're traveling with strollers, we suggest keeping your child out of the stroller before getting on the shuttle. Please expect a 10-20 minute shuttle ride to and from the event depending on traffic.
Our complimentary off-site parking lots and shuttles are anywhere from 1 to 3 miles away, with a driving time of 20 to 25 minutes during peak visitation. We appreciate your patience as we strive to get all of our guests here safely and as quickly as we can. The journey will be worth the experience!