About Us
We haven't always been the Silverton Christmas Market, this is how we became the event we are today!

This event has become a beloved family tradition over the past decade, but it was not always called the Silverton Christmas Market. In 2020, the event was Lights at the Oregon Garden Resort and prior to that, the event was held in The Oregon Garden's Rediscovery Forest as Christmas in the Garden for many years. Since the Resort's parent company, Moonstone Hotel Properties, no longer manages The Oregon Garden, the event now resides on the grounds of the Oregon Garden Resort. This has been a positive change for the event, bringing a longer and more intimate walking path, a one-way path to ease the flow of traffic and varied landscaping to make one million lights even more spectacular.
Did you know that our Christmas Market is inspired by those held in Germany each winter? Our company has strong German ties and a passion for Christmas, and our Christmas Market is the perfect way to share those traditions and holiday cheer with you! Learn more about the German Christmas Market Traditions we've brought back to the States for you to enjoy, including Krampus, gluhwein, gingerbread hearts, roasted nuts, Christmas market mugs, incense smokers, and more!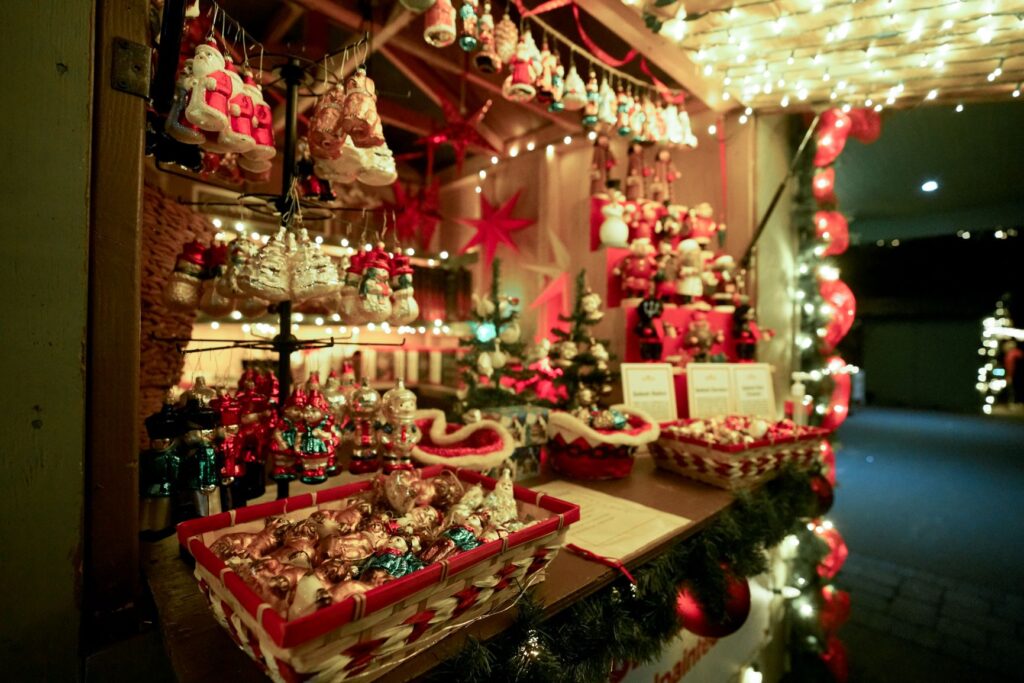 The new Silverton Christmas Market aims to focus on its German heritage and gathers inspiration from authentic German Christmas Markets, with collectible mugs; traditional lebkuchen (gingerbread hearts) and gluhwein (mulled wine); artisan vendors; a booth selling imported handcrafted German nutcrackers, smokers and ornaments; and a light section dedicated to Krampus – the wicked German counterpart to St. Nicholas.
Although there is no longer an ice rink at the Christmas Market, there are exciting activities like the snowless tubing hill, the Biergarten, live bands and carolers, and many magical light displays.
The Silverton Christmas Market is honored to support the community of Silverton through partnerships and donations to various local non-profits, supporting local artisans and businesses in the Market, discounted admission for Silverton residents, and more. In 2021-2022, we raised funds for the Silver Falls School District through our Tube for Schools program and other non-profits such as the Silverton Area Community Aid (SACA), the North Willamette Valley Habitat for Humanity, their neighbors at The Gordon House, the Silverton Mural Society, the KEX Kids Fund and Oregon Lion's Sight & Hearing Foundation and The Brew's "Breaking and Entering Christmas" family sponsorship. Outside of the holiday event, the Oregon Garden Resort also sponsored the city of Silverton's Tree Lighting and donated to Silverton Together's Holiday Festival Celebrating Families.
We look forward to continuing these partnerships for years to come. Learn more about how we're supporting our local community!